No results were found for the filter!
Barbera Caffe
Elio Barbera (Sohn von Enrico) - Enrico Barbera - Anne Duhre - Justin Bahner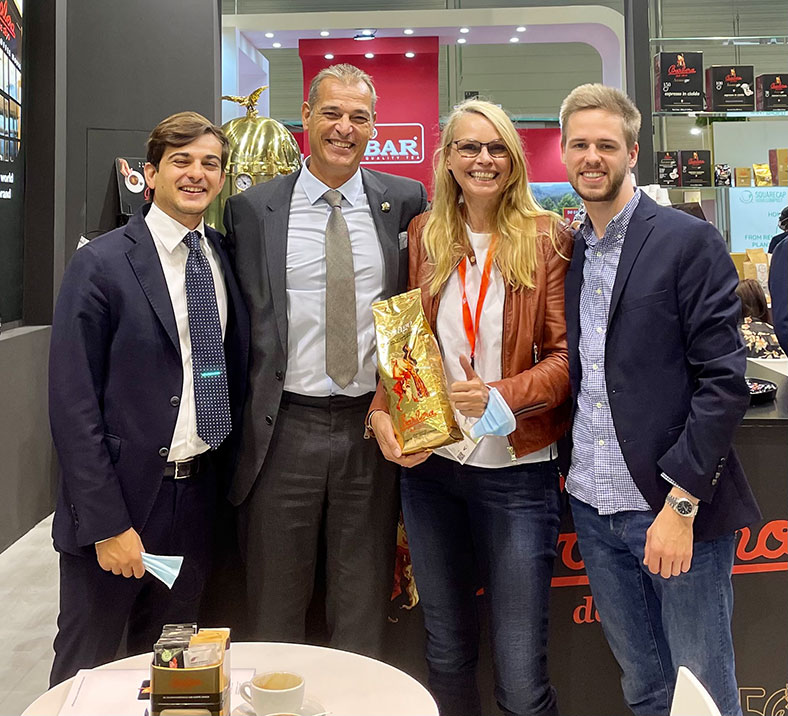 BarberaIn 1870, Domenico Barbera, originally from Piedmont, began roasting coffee with a small machine in the alleys of Messina in Sicily.
The "magician," as his customers affectionately called him, expanded his small business. Soon a new coffee roasting machine was acquired, with the mysterious name "Tornado". Now the Barbera family could proudly roast up to 30kg of coffee at a time.
In 1903 Domenico died very suddenly, leaving his son Antonio to take over the family business in the second generation. Antonio felt equally committed to the family tradition and to the further development of the roastery.
The quality of the coffee, the management of the finances, and the marketing of the coffee were just a few of the many issues that needed to be addressed in order to help Barbera Caffe achieve long-lasting success.
His efforts were crowned with success: between the two world wars, the coffee of the "Magician" was the most drunk coffee in southern Italy. Then, in 1947, Antonio's son Letterio opened a new coffee roasting plant in Naples. This was not without risk, as Naples already had an excellent coffee culture and a number of very good and established roasters. But the willingness to take a risk paid off, because in the end the company built there was a complete success.In 1951 Letterio was able to open its first branch in Milan. With the help of a network of many vendors, the magic coffee was soon enjoyed throughout Italy.
Monitoring the quality


In the 1950s, the era of research and development began. New roasting machines, monitoring of quality, improvement of each step and development of new products were things that Barbera also had to face. After Carmelo, Letterio's son, returned from the United States as a food chemist, he set up Italy's first coffee laboratory, thus improving and developing the individual production steps on a scientific basis.
A simple step, but one that made a big difference. In collaboration with the International Coffee Society, Barbera was the first coffee laboratory in Italy to publish in prestigious journals. The fifth generation also ensures that Barbera grows and becomes internationally known and loved.
In 1999, Barbera took over the "Tris Caffè" brand in order to increasingly compete in the national market.
2002 saw the launch of Barbera's first coffee menu: the aim was to create 18 different creations using the essential ingredient, espresso.
In 2003, the first Café Barbera opened in Dubai.
Caffe Barbera is now a large company that has won many prizes and various awards due to the excellent quality of its coffees.